EU-STRAT held a policy briefing on scientific cooperation on 24 November in Minsk, Belarus. The event was organized by SYMPA, EU-STRAT's partner institution in the country.
The briefing focused on the challenges and accomplishments of scientific cooperation and academic mobility in the the Eastern Partnership countries.
The briefing was attended by representatives of numerous Belorussian universities and higher education institutions (Belorussian State University, Belorussian State Pedagogical University, Salharov's Institute of BSU, Belorussian State Economic University, Public Administration Academy, National scientific and practical centre of maternal and newborn heath and the Instutite for Training of Court Experts) and research institutions (Institute of Economy of the National Academy of Sciences and Institute of Food of the National Academy of Sciences). Also present were representatives from NGOs (Independent Bologna Committee, Union of Belarusian Students, Human rights centre "Viasna"), think tanks (BISS, Liberal Club), the National contact point of Horizon 2020, and members of the diplomatic corps residing in Minsk.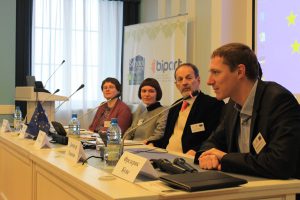 The event was opened by the representative of the EU Delegation in Minsk, the Director of Operations Dr. Frederik Coene. He spoke of the importance of bringing together academic research and practical experience for economic and political development in Belarus. Ina Ramasheuskaya and Tatsiana Chulitskaya from SYMPA presented EU-STRAT and its significance for Belarus, and highlighted the need to engage with target audiences in Belarus, Moldova and Ukraine.
The keynote speech was delivered by Dr. Aleksa Bjelis, a representative of Magna Charta Observatory and former rector of Zagreb University in Croatia. His speech set the context for the discussion of scientific cooperation and academic principles that followed. Dr Bjelis drew from his experience of serving in various EU councils and associations dealing with higher education, research and innovation reform to highlight the main challenges and opportunities for transition countries that want to utilize available EU research funding in the most efficient way.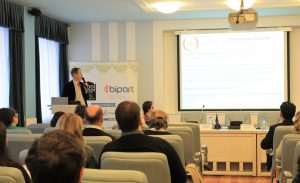 Dr. Dimiter Toshkov from Leiden University presented first results from EU-STRAT's Work Package 7. He outlined how the study of the research cooperation and academic mobility fits into the context of studying broader societal transformations and showcased some findings from the study of the institutional framework of cooperation between the EU and Belarus, Moldova and Ukraine.
These presentations were first discussed by Olga Meerovskaya, National contact point on Horizon 2020 in Minsk, and Dr. Vladimir Dounaev, Independent Bologna Committee. This was followed by an engaging and lively open discussion during which the participants raised a lot of interesting and important points related to the problems and challenges of international scientific cooperation in Belarus and other former Soviet countries, as well as the role of the EU in supporting this process.