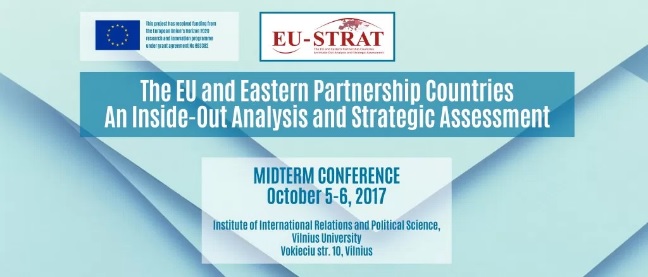 EU-STRAT's midterm conference will take place from October 5-6, 2017 in Vilnius, Lithuania. The conference sets out to present the intermediary findings of our research project EU-STRAT that set out to provide a re-assessment of the European Neighbourhood Policy, focusing on the Eastern Partnership countries.
The midterm conference features a welcoming word by Linas Linkevičius (Minister of Foreign Affairs of the Republic of Lithuania), a keynote speech by Leszek Balcerowicz (Professor at the Warsaw School of Economics, Former Advisor to the President of Ukraine Petro Poroshenko) and Vassilis Maragos (European Commission, Head of Unit, DG Neighborhood and Enlargement Negotiations (NEAR)) followed by roundtable discussion on the future of the Eastern Partnership. Throughout the conference, all project partners, invited guests, and the interested public will have the opportunity to discuss EU-STRAT's intermediary findings and debate its future research agenda.
---
Please find the programme of the event here (last update 26 September 2017).
Please follow this link to register for the conference.
For further information on the conference, please contact Eglė Kontvainė (egle.kontvaine@tspmi.vu.lt).
---