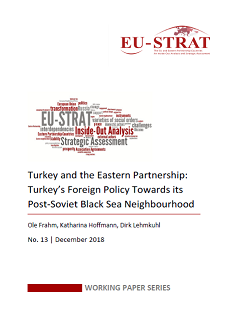 EU-STRAT has released Working Paper No. 13, which examines Turkey's foreign policy towards its post-Soviet Black Sea neighbourhood. Click on the title or the picture below to download the PDF.
---
Title: Turkey and the Eastern Partnership: Turkey's Foreign Policy Towards its Post-Soviet Black Sea Neighbourhood
Authors: Ole Frahm, Katharina Hoffmann, Dirk Lehmkuhl
---
Abstract:
This paper discusses the main strands of Turkey's post-Cold War foreign policy in its post-Soviet Black Sea neighbourhood of Armenia, Azerbaijan, Belarus, Georgia, Moldova and Ukraine with a focus on the period of Justice and Development Party rule (2002-2018). Based on the analysis of Turkey's rhetorical stance towards the region's countries and its actual interaction across five sectors – trade, energy, security, education/culture and migration – our findings demonstrate that the foreign policy rhetoric with its strong emphasis on historical ties, economic and energy cooperation and support for regional countries' territorial integrity is not matched by Turkey's observable engagement. An important factor for the mismatch between rhetoric and engagement is that relations with the region are seen at least partly through the prism of Turkey's more salient relations with Russia.