Working paper / November 2017
EU-STRAT's seventh working paper is out. Click on the paper title below to download PDF.
---
Working Paper No.7 (2017): Assessing Legal and Political Compatibility between the European Union Engagement Strategies and Membership of the Eurasian Economic Union
---
Authors: 
Rilka Dragneva, Laure Delcour and Laurynas Jonavicius
---
Abstract: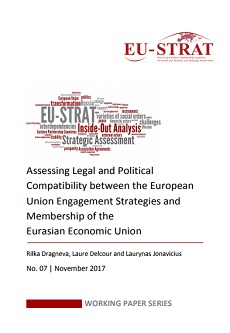 One of the challenges to EU's Eastern Partnership (EaP) policy relates to structuring cooperation with countries
that have opted for membership in the Eurasian Economic Union (EAEU), such as Belarus and Armenia, while
avoiding the problems faced in the Ukraine crisis of 2013-2014. Acting on its revised European Neighbourhood
Policy, the EU has sought to develop differentiated and flexible tools of engagement with the EaP countries,
including a new type of agreement with Armenia, the Comprehensive and Enhanced Partnership Agreement
(CEPA). Delivering on this agenda, however, requires clarity on the constraints and limits imposed by membership
in the EAEU. The EU has tended to establish such limits by reliance on the technocratic analysis of current
obligations contained in formal legal agreements.
Yet, as revealed by the Ukraine crisis, this approach has not necessarily reflected the geopolitical realities in the region and Russia's view of integration and its compatibility with EU's policies, in particular. This paper argues that establishing the limits imposed by EAEU membership requires an assessment of the range of legal as well as non-legal levers at play in individual member states in relation to Russia's integration projects. What matters is how Russia as well as its Eurasian partners play the 'integration game', and the degree to which political elites in Belarus and Armenia can manoeuvre a space for independent engagement with the EU. This is necessary because of the particular nature of the EAEU, defined by a mixture between current and future commitments, problematic institutional boundaries between delegated
powers and members' commitments, and the prevalence of power relations within a highly asymmetric huband-spoke
context. In this context, Russia has a continued ability to interpret the nature of the commitments undertaken and their compatibility with overlapping international agreements, and enforce it using critical interdependencies of the members.
We examine how the 'compatibility space' is negotiated by elites in Belarus and Armenia, and elaborate on the case of CEPA as the most recent test to complementarity of integration
engagements in the region.